Schedule | Film Screenings, PANELS, NETWORKING
The internet, digital technology, social media and mobile devices have completely transformed the storytelling process. Presented by the Urban Mediamakers Association, the 18th Urban Mediamakers Film Festival (UMFF) celebrates artists, filmmakers, writers, actors and digital content creators who are using new technology and distribution models to create a multitude of interactive projects. These projects entertain and invoke thought for change. With the continued lack of diversity in Hollywood and mainstream media, UMFF gives African, African-American, Black, Asian, Hispanic and Latinx storytellers an opportunity to showcase their artistry, compete with peers, hone their skills through educational series and interact with public supporters of independent storytelling.
get your tickets to the urban mediamakers film festival (UMFF) 2019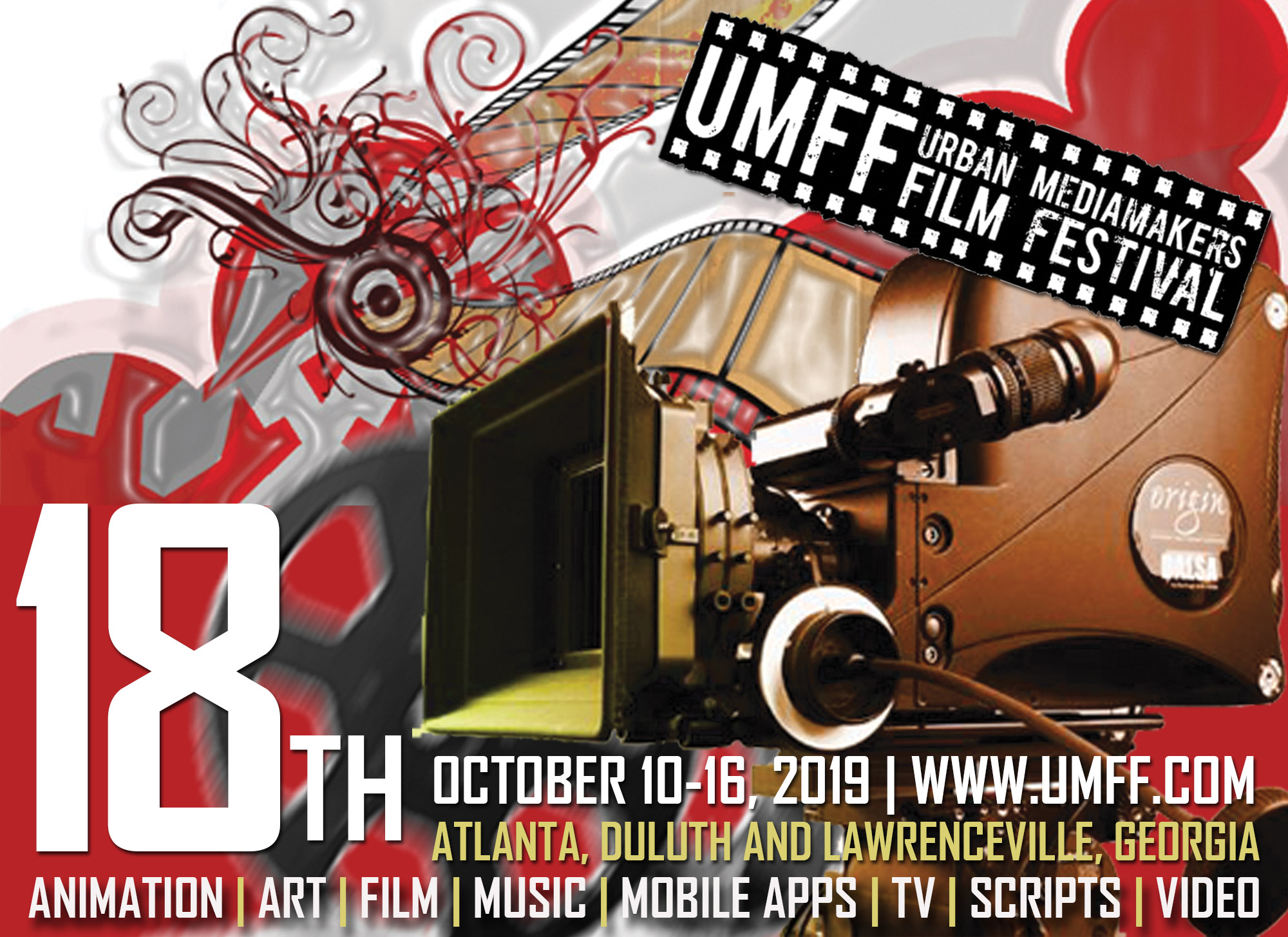 Festival Locations:
ArtBar at Sonesta Hotel | 1775 Pleasant Hill Road, Duluth, Georgia
Gwinnett Justice and Administration Center | Lawrenceville, Georgia
Five Forks Trickum Branch - Gwinnett County Public Library | Lawrenceville, Georgia
Suwanee Branch - Gwinnett County Public Library | Suwanee, Georgia
Rehearse Live | Atlanta, Georgia
FILM SCREENINGS! GET TICKETS

Download the full UMFF 2019 Film Screening Schedule PDF
All children under 18 must be accompanied by an adult.
Thursday, October 10, 2019 | Lawrenceville, GA
Gwinnett County/Atlanta Film/TV Production Tour - Join us as we visit film and television production sites and studios in this riding tour of studios and movie/TV locations throughout Gwinnett County, Georgia and metro-Atlanta. 10:00a - 2:00 p.m. | $75 | Includes Lunch at Pinewood Studios | Get Tickets
Opening Night UMFF 2019 SpeedCollab Networking | Sonesta Gwinnett Place Atlanta ArtBar | Join us for drinks, signature dishes, networking and Top 10 Writers Announcement | 1775 Pleasant Hill Road, Duluth, Georgia | 7:00-9:30p | FREE | Get Tickets
Friday, October 11, 2019 | Duluth and Suwanee, GA
UMFF 2019 Writers Lunch | Entrepreneurship: Beyond Creating | $35 | Duluth, GA | Get Tickets
The State of Georgia Film/TV Productions | Reception, Community Conversation, UMFF 2019 Commercials, Trailers and Key Art | Lawrenceville, GA | 6:00-9:00p | FREE | Get Tickets

Saturday, October 12, 2019 - $30
Sunday, October 13, 2019
Monday, October 14, 2019
UMFF Film Screenings in Competition, Filmmaker Q&A, Panel | Get Tickets
Tuesday, October 15, 2019
UMFF Film Screenings in Competition, Filmmaker Q&A, Panel | Get Tickets
Young Urban Mediamakers Videopalooza Showcase - FREE | Live Voting | Get Tickets
Wednesday, October 16, 2019
UMFF Film Screenings in Competition, Filmmaker Q&A, Panel | Get Tickets
UMFF 2019 Awards, Dinner and Closing Film | $25 | Get Tickets
Urban Mediamakers Upcoming Events
UMFF 2019 Festival Spotlight
Event:

AfroFuturism Festival
Celebrating black sci-fi, fantasy, horror and gaming

Connection:

Urban PitchFest 2019
Up close with industry professionals.

Writers:

UMFF 2019 Live Script Readings